VoxxLife NeuroVax Patch: Optimize Your Immune System
The Neurology of the Immune System: Neural Reflexes Regulate Immunity Parallel advances in neuroscience and immunology have established the anatomical and cellular basis for bidirectional interactions between the nervous and immune systems.
Like other physiological systems, the immune system and the development of immunity-is modulated by neural reflexes. The Neurovax patch triggers neuroplastic optimization and harmonization of the communication loop between the brain-stem, vagus nerve, thymus and spleen by generating innate neuro signals decoded by the CNS based on the "pattern theory" of hap-tic neuro coding. This optimized communication leads to optimized immune system.
The neuro path to faster wellness …
VoxxLife Meta Patch: Neurohaptic Advanced Metabolism
Meta Patch optimizes energy metabolism in a totally drug-free, non-invasive way.
The brain plays a central role in the homeostatic regulation of energy metabolism. The brain integrates multiple peripheral metabolism and neuro inputs.
This information, on energy intake and bone energy stores, is transferred to specialized neurons in the hypothalamus and brainstem. In order to maintain energy homeostasis, the brain regulates diverse aspects of the body metabolism.
The Meta patch triggers neuroplastic optimization and harmonization of this communication loop between the hypothalamus and brainstem by generating innate neuro-signals decoded by the CNS based on the "pattern theory" of haptic neuro coding.
This optimized communication leads to optimized energy metabolism.
The Neurohaptic Advanced Metabolism Patch are:
• Drug Free
• Non-Invasive
• Non-Electrical
• Chemical Free
• Provide Immediate Benefits
• Easy to Use
• Comfortable to wear
• Inconspicuous
• Affordable
• Water Resistant
Voxx Life REM Sleep Optimization Patch 30-Pack


Jay Dhaliwal: The Power of the Harmony HPT Patch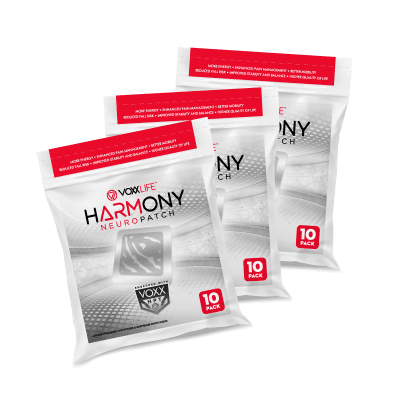 VoxxLife – Dr. Mark DeBrincat, D.C., Brain Mapping
Dr. Mark DeBrincat, D.C., Brain Mapping, VP of Clinical Strategies for VoxxLife, explains why anyone with a brain should consider Voxx HPT and how Voxx HPT impacts our neurology in a positive way 100% of the time.
---
"I've seen it work so often. The majority of patients get tremendous improvement — it's the gift that keeps on giving."
Dr. Steve Wolf is an orthopaedic spinal surgeon operating out of Pennsylvania. The role of the spine in everyday human function is incredible; the spinal cord is what allows the brain to send and receive information to and from the rest of the body. Patients recovering from spinal surgery often need some form of physical therapy; patients going into spinal surgery are often having troubles with movement, balance, or stability. Dr. Wolf talks about the incredible impact Voxx HPT can have for patients on either side of the surgical table, and how he has used VoxxLife products to improve his patients' quality of life. Thank-you Dr. Wolf for sharing!
"Any manual practitioner, without a doubt, should be implementing these things. I know it's hard to understand the concept of how it works, because it's so not-clinical … but what it does to affect the neurology of somebody just enhances treatments, and then it just helps people's quality of life."
Dr. Joe Baldino specializes in brain-based rehabilitation from his clinic in Illinois. Brain rehabilitation therapy is incredibly important for individuals fighting problems with everything from their memories to their speaking to their movement. Often, patients needing brain rehabilitation are recovering from brain injuries, tumours, and strokes. Voxx HPT helps Dr. Baldino and his patients on a regular basis. He describes it as an amazing supplement to his regular treatments, saying that he's seen "things that look like miracles" in patients with concussions, migraines, and vertigo. Homeostasis and rehabilitation complement each other very well, and VoxxLife is thrilled to be able to help Dr. Baldino's patients – thank-you for sharing your story!
"What I have found with Voxx is that proof is in the pudding after you start to show it to everybody. … I've found nine out of ten [respond], and I tell them, 'you have a good chance of responding, and you'll know that quick.'"
Dr. Larry Cox is a family doctor operating out of Pennsylvania. As a physician who works with patients through every stage of their lives, he needs access to a wide variety of treatments, cures, and aids every day. Dr. Cox also prefers giving his patients solutions that involve minimal medication – and therefore minimal side effects. The versatility of Voxx HPT, combined with its often-instant results, are a great help to his practices. Thank-you Dr. Cox for sharing your story!
What does VOXX Life HTP deliver?
There is no electrical stimulation device that delivers Voxx HTP benefits.
There is not a single chemical or drug that delivers Voxx HTP benefits.
There is not a single nutritional product that delivers Voxx HTP benefits.
There is not a single modality or therapy that delivers Voxx HTP benefits.
30 Day Money-Back Guarantee. No Auto-Ship. No Risk.
Dr. Alex Vidan: ADD/Dyslexic Chiropractor and Children
Dr. Alex Vidan is a chiropractor from St. Louis, Missouri who has worked with patients that include professional athletes, Fortune 500 clients, and countless others. He began incorporating Voxx HPT into his practice after he saw the difference for himself and for this children, who deal with ADD and dyslexia on a daily basis.
VoxxLife – Autism Testimonial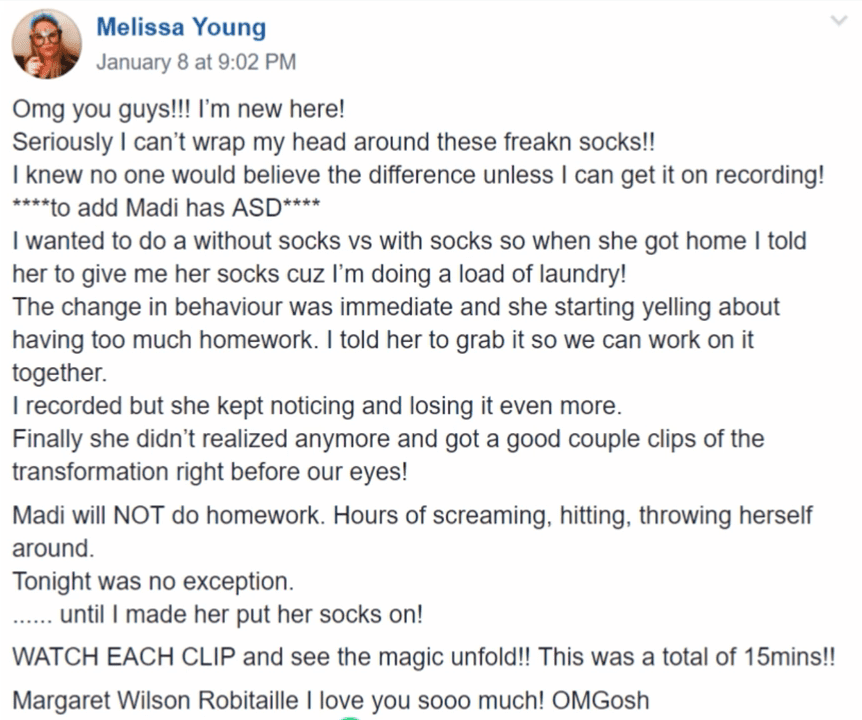 VoxxLife – Child w/ Anxiety, Sensory Processing: Super Big Emotions, Meltdowns
"We are responsible for raising our future
so why not invest in it and see what this technology can do." 
-Sierra Grana

Previously paralyzed woman with Guillian Barre' joyfully testifies her instantaneous experience with the Voxx Socks and Insoles. Watch her as she demonstrates what it's like before and after wearing these life-changing products….
Webinar on development and use of Voxx HTP
VoxxLife has put together the first in a series of many webinars discussing some of the background behind the development and use of Voxx HPT. In this episode, VoxxLife CEO and Founder, Jay Dhaliwal, gives a short talk on Integrative Neurotech and it's development over the years. This video gives some insight into the history of neurostimulation and how this science has helped to inspire and craft some of the breakthroughs we are all enjoying with Voxx HPT. Jay also talks about some of the historical benefits and risks associated with traditional applications of neurostimulation and how this science has helped to craft Voxx HPT. Breaking away from traditional methods of neurostimulation we truly feel that a big advance has been made with Voxx HPT and it's use of superficial tactile stimulation of specific neuroreceptors. Please take the time to watch this video and share it with others to help and explain what is happening when you put on the VoxxLife socks and insoles. Jay also introduces a truly remarkable testimonial that has really helped to show why so many of us are involved with VoxxLife. VoxxLife products are not intended to diagnose, treat, cure or prevent any disease, condition or ailment.
90% reduction in painful neuropathy in diabetes
4% no change
2% making pain a little bit worse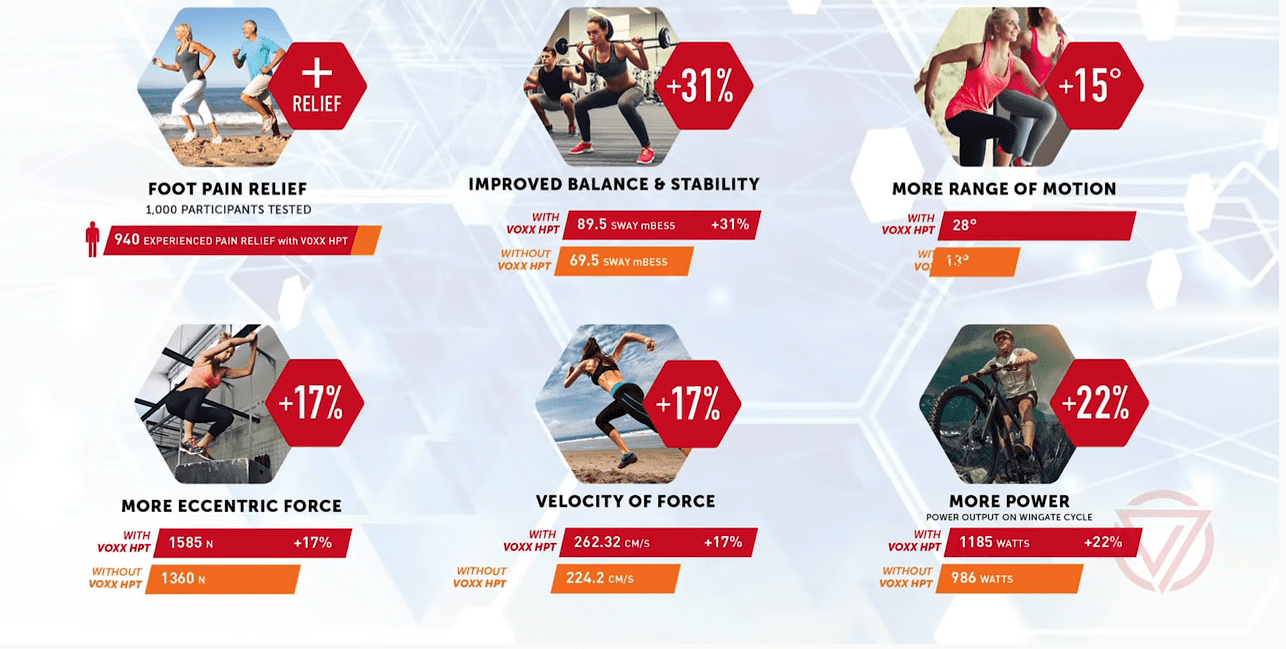 Dr. Sean Drake: Athletic Chiropractor
Dr. Sean Drake is a sports chiropractor who's goal is to assess enhance the performance of high-level professional athletes. He learned about Voxx HPT earlier in his career, and immediately noticed improvements in both the recovery and performance of athletes who wore the tech. Then he started wearing it himself. Dr. Drake recommends HPT technology in the care plans for all of his patients, and the results are incredible.
VoxxLife Stories | Chip McDaniel, Professional Golfer

Wash socks in cold or warm water; never hot. Regular laundry detergent is fine.

Turn socks inside out for each washing. 

Skip the clothes dryer; air dry only.