You scrub your floors, wash your car, and clean your clothes, but when was the last time cleansed your system? Chances are good it's been awhile. Here's the problem…
Over time, impurities from the environment, your diet and even water, build up in your system compromising your body's ability to work properly and may even cause you to gain weight.
Help your body remove this build up and get the most out of your diet with Herbal Cleanse Tea. Harnessing the power of superior plants and extracts.
Herbal Cleanse Tea helps to keep your digestive system in working order and supports your body's ability to fully absorb the nutrients from your diet.*
Key points:
All natural
Gluten FREE
Refreshing
Delicious, natural flavors
No artificial sweeteners
Key health benefits:
Helps support weight loss when combined with a healthy diet and exercise.*
Helps cleanse your digestive tract.*
Promotes regularity and a healthy digestive system.*
Supports daily health and wellness.*
Refreshing and Delicious
Herbs from Japan, India and traditional Ayurvedic medicine combine in a light herbal tea with a delicate white grape finish. Easy on the palate and even more gentle on your digestive system, this one-of-a-kind blend can help get your weight loss efforts off to a clean start.*
Taking Out the Trash
Candle Bush and Fennel, two of the most popular herbs featured in diet and weight loss teas, provide the gentle flushing for Herbal Cleanse Tea. This pair works not just to rid your body of undigested fats and impacted intestinal debris, it helps alleviate constipation, bloating and gas to get your digestive system quieted and back on track.*
Soothing Support
Herbs like Honeybush and Rose Hips and even Roobios Tea help prevent abdominal discomfort, indigestion or inflammation from occurring.*
Getting Back to Business
With your system cleansed and your stomach soothed, the powerful trio of Pu-erh Tea, Salacia and Gymnema Sylvestre go to work to help lower your triglycerides, improve your digestion and help maintain healthy sugar levels.*
Does our NEW Herbal Cleanse Tea work?? You betcha!
Just ask Bill Ball who's lost another 10 lbs after adding
Herbal Cleanse Tea to his weight loss efforts.
WOW. If sales and success stories are any indication, Herbal Cleanse Tea is a HOME RUN.Here's a couple of the reviews we've seen recently:

"Had my 1st cup of detox tea last night! It had a delicious, smooth, almost fruity flavor and did not require any sweeteners. Can't wait to feel and see the results! Definitely feel and look less bloated this morning."

"Detox never tasted so delicious! Who wants a box of our BRAND NEW detox tea? Couple this with our amazing coffee or tea and get bikini ready!"

"I had been looking forward to going home after the phone call from hubby telling me that our new herbal cleansing boxes arrived. Truly instant satisfaction!!! Love, love detoxification. And best of all, it tastes amazeballs!!!"

"Javita's new herbal cleanse detox tea! So good If you have hit a plateau in your weight loss efforts, the average person holds 5-7 lbs in their digestive tract which can cause weight gain. Our tea will cleanse your digestive system which will allow you to lose weight more efficiently."

"Delicious!!!! Detox while I sleep!!!!!"

"Wow!! I love it !! Javita Detox Tea!! Hit a plateau in weight loss? Or maybe you just want an extra pep in your step and need to feel a little lighter? Whatever the reason now is the perfect time!! So excited!"
Get Yours NOW!!
Herbal Cleanse Tea (item no 8300) includes 14 individual sachets. Each box is $14 / 10 CV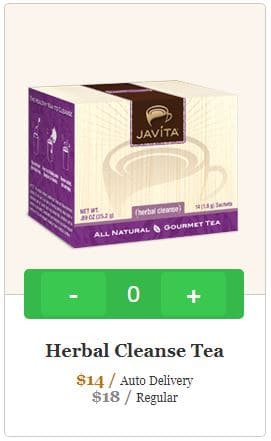 * These statements have not been evaluated by the Food and Drug Administration. These products are not intended to diagnose, treat, cure or prevent any disease.
Turning the Spotlight on Rooibos (featured in new Herbal Cleanse Tea)
Posted by Javita on Jan 27th, 2015 in (Herbal Cleanse Tea)
Grown only in the small Cederberg region of South Africa, near Cape Town, rooibos is made from the leaves of the "red bush" plant, aspalathus linearis. Enjoyed for centuries by the indigenous people for its taste and medicinal properties, international awareness of this superfood only began a century ago, with its popularity growing steadily ever since, especially among the health conscious.
Most teas are derived from the Camillia sinensis plant, including black, white, green, and oolong. Rooibos is different and therefore considered more of an herbal drink or tisane than a true tea. It is called "red tea" or "red bush tea" because of the bright red color the leaves become during the oxidation process. Once brewed, rooibos tea will have a red color and a sweet, nutty flavor.
The phytonutrients in rooibos offer many health benefits
Like any superfood, rooibos is full of health boosting phytonutrients, such as vitamins, minerals, antioxidants, polyphenols, and flavonoids. Amounts of each may vary depending on when and how the leaves were harvested and oxidized, but all rooibos almost always has the following minerals:
Iron, to transport oxygen through the blood
Magnesium, to build bones and release energy from muscles as needed, and more
Potassium, to regulate blood pressure and protect against cardiovascular disease
Sodium, (not table salt) for regulating nerves and muscles
Zinc, for wound healing, skin and nail health, and immune system
Several trace minerals as well, such as copper and manganese
Rooibos also has a variety of flavonoids, and potent antioxidants. Some of the health benefits associated with this impressive list of phytonutrients includes: stronger teeth and bones; increased immune function; decreased insomnia, headaches, irritability, soothed stomach cramps and colic, cardiovascular health and heart disease protection, cancer prevention, cellular protection, and many more, with no known side-effects.
The latest research findings support traditional uses of rooibos
In the 1960s a South African mother published a book on the health benefits of rooibos tea. It sparked interest in discovering the nutrition and health benefits of rooibos. Studies soon identified the antioxidant properties and other phenolic compounds. In the decades since, continued studies have identified more phytonutrients, explored how they work, and investigated applications for them. For example, in 2003 the American Botanical Council said there is no other natural resource that has as many antioxidants as rooibos. Two of them are rare: nothofagin, proven to protect against cancer, heart disease, and stroke; and aspalathin, which is only found in rooibos tea. (http://www.naturalnews.com/031536_rooibos_tea_South_Africa.html)
Aspalathin helps muscle cells use glucose more effectively, and maintain normal blood sugar levels. It is just one flavonoid among a wide spectrum of bioactive phenolic compounds. The phytonutrients are believed to aid stress-related symptoms linked to metabolic diseases. A study was done to see if rooibos could help maintain hormonal homeostasis to help prevent numerous clinical conditions such as hypertension, metabolic syndrome, insulin resistant type 2 diabetes, and cardiovascular disease. Rooibos' aspalathin and nothofagin were investigated for their inhibitory effects on adrenal steroidogenesis and found to significantly reduce aldosterone and cortisol precursors, helping to balance hormones and reduce stress. (http://www.ncbi.nlm.nih.gov/pubmed/22101210)
One of the traditional uses of rooibos tea is for South African mothers to use rooibos tea to soothe infant colic, and calm hyperactivity. It seems rooibos offers additional benefits for children. Rotaviruses cause severe diarrhea in young children. The luteolin and vitexin in rooibos was found to be one of the edible plant extracts that had anti-viral activity strong enough to treat diarrhea caused by rotavirus infection. (http://www.ncbi.nlm.nih.gov/pubmed/22834653)
Antioxidants prevent oxidative stress, which causes degenerative problems on a cellular level to a variety of tissues, from organs to sperm. One study compared the effects of red rooibos, green rooibos, Chinese green tea, and commercial rooibos and green tea supplements on rat sperm. Sperm count and motility were found to be significantly higher for rats on red and green rooibos than any of the other groups (http://www.ncbi.nlm.nih.gov/pubmed/22228422). Another antioxidant in rooibos is chrysoeriol. It is an effective bronchodilator, helps lower blood pressure, relieves spasms, and helps prevent and treat vascular disease by inhibiting the cause of hardening of arteries. (http://www.sarooibos.org.za)
The cardioprotective effects of the main polyphenolic compounds in both red and green rooibos tea were evaluated in a study using rat hearts. Results showed that rooibos extracts had the highest amount of flavonols and significantly improved aortic output recovery and decreased apoptosis (http://www.ncbi.nlm.nih.gov/pubmed/21982437). Another study found green tea and rooibos to inhibit ACE activity (http://www.ncbi.nlm.nih.gov/pubmed/22095883). Other ways rooibos keeps the heart healthy is by preventing oxidation of fat molecules in blood, enhancing glutathione, improving blood lipid profiles, and lowering LDL cholesterol. It also inhibits the angiotensin-converting enzyme, or ACE, which is associated with the development of cardiovascular disease including hypertension and heart disease. (146-the-science-of-why-rooibos-is-good-for-you)
Over the last decade, researchers have proven the therapeutic ability of rooibos in the fight against cancer, protecting the liver from disease, boosting the immune system, relieving allergies, and treating digestive disorders. To use rooibos therapeutically, studies from South Africa show optimum health benefit when drinking six cups throughout the day. (http://www.sarooibos.org.za/health-mainmenu-48)
The powerful antioxidants in roobios protect living cells from oxidative damage, which also slows or prevents cancer. Rooibos may also help the body remove cancerous cells that already have damaged DNA. Studies suggest rooibos may switch on certain genes that help to break down carcinogens stored in the body tissues for elimination (http://www.sarooibos.org.za). A study on herbal tea as a cancer preventative found total esophageal papilloma size in rats to be reduced by unfermented rooibos. (http://www.ncbi.nlm.nih.gov/pubmed/21541901)
One study found that special extraction of the alkaline extracts present in rooibos tea leaves seem to suppress HIV-induced cytopathicity, leading to the conclusion that daily intake may suppress HIV infection. (The extraction is important because regular rooibos tea doesn't have the anti-HIV activity). (http://www.naturalnews.com/035923_coffee_rooibos_energy.html)
Research validated powerhouse
These studies are only a handful of noteworthy findings on the latest research of rooibos tea. Nutritional intervention with powerful phenolic constituents has a long, proven history.
As the medical industry's standard treatments often fail to halt and heal problems such as obesity and metabolic diseases, it is becoming increasingly common for them to turn to plant-derived polyphenols for safer and more effective therapies (http://www.ncbi.nlm.nih.gov/pubmed/21211952). Current health research projects by the South African Rooibos Council including studies on: anti-aging properties of rooibos, rooibos effects on obesity, how rooibos improves performance during exercise, how rooibos combats stress, and the cancer-preventing properties of roobios.
Scientists around the world are investigating the complex chemical composition and bioactivity of rooibos. The bioavailability of its more than 25 phenolic compounds helps to explain its effectiveness at promoting health and longevity. It also explains why it is increasingly being investigated as a possible way to safely and effectively protect the human body from disease. Added to that, rooibos is safe to drink – prolonged use does not harm the kidneys, bladder, or liver, and it does not affect iron levels in the blood. And it doesn't have calories, caffeine, or other stimulants. One thing most rooibos researchers would agree on: adding polyphenols from rooibos tea to the daily diet is likely to help in overall health management.
Sources for this article include:
http://www.rooibostea.com/
http://www.ncbi.nlm.nih.gov/pubmed/22807363
http://www.naturalnews.com/035923_coffee_rooibos_energy.html
http://www.sarooibos.org.za
http://www.ncbi.nlm.nih.gov/pubmed/21211952
http://science.naturalnews.com/2007/3250662_.
Click here to read the original article.
SPOTLIGHT: Piper Longum Linn.
POSTED ON FEB 17TH, 2015 IN (HERBAL CLEANSE TEA), INGREDIENTS & BLENDS
One of the core functions of our product development team, is to infuse into our formulas some of the most breakthrough blends known to man and science.
These herbs and extracts come from all over the world (Japan, China, India, Europe, Brazil, etc.), and have been expertly and thoughtfully combined into what we believe are the most superior products available on the market today.
Herbal Cleanse Tea is no exception, In fact, the ingredient list reads more like the 'who's who' in the world of Ayurvedic medicine.
Over the weeks since its launch, we've featured stories on a couple of Herbal Cleanse Tea's ingredients (Rooibos,Salacia Oblonga and Pu-erh tea).
Here's another herbal spotlight that's sure to get your attention: Piper Longum Linn.
From antioxidant, antiflammatory, antitumor and anticarcinogenic to neuroprotective and immunomodulatory, Piper Longum Linn is one powerful herb.
Checkout these abstracts from a few of the most recent studies on this one-of-a-kind herb.
Studies on the neuroprotective role of Piper longum in C6 glioma induced rats.

Subramanian U1, Poongavanam S, Vanisree AJ.

Abstract

Many naturally occurring substances of plant origin ingested in human diet, exhibit anticarcinogenic and antimutagenic effects. One of the active phytochemical which shows the active anticarcinogenic role is Piper longum Linn. (Pl). Pl is widely used in ayurvedic industry due to its property in healing some of the bodily ailments. Despite being known for the antioxidant, antimicrobial and anticarcinogenic effects, its relation to brain and its tumour development is still scarce. Hence, the experimental glioma model was developed in rats using C6 glioma cells and the effect of Pl was evaluated in the brain tissue of experimental group of rats. From the study, the glioma induced animals showed an increased level of lipid peroxides (LPO), tissue marker enzymes lactate dehydrogenase (LDH), creatine kinase (CK), 5'nucleotidase (5'ND) and acetylcholine esterase (AChE). But Pl treatment (20 mg/kg body weight) significantly attenuated these alterations thereby showing potent anticancer effect in glioma induced rats. In addition, the anticarcinogenic effect of Pl was confirmed by microscopic analysis and the restoration of increased lipids and protein bound carbohydrates (PBCs) in the brain tissue of glioma induced rats. Hence our results implicate a major role for Pl in preventing the cancer development in the experimental glioma model.
Protective effect of Piper longum Linn. on monosodium glutamate induced oxidative stress in rats.

Thomas M1, Sujatha KS, George S.

Abstract

Protective effect of ethanol extract of Piper longum Linn. against monosodium glutamate (MSG) induced toxicity was studied. Rats, orally administered with MSG at a dose of 8 mg/g body weight for 20 consecutive days, showed an increase in liver weight and rate of lipid peroxidation. Glutathione (GSH) in serum, liver and kidney showed decreased concentration. Significant increase was noticed in activities of serum alanine amino transferase (ALT) and aspartate amino transferase (AST), levels of serum triacylglycerol, total cholesterol and urea. Histopathological examination of liver and kidney showed central venous congestion, diffuse degeneration and necrosis of hepatocytes in para cortical and midzonal areas of liver and diffuse cortical tubular degeneration of kidney. Oral administration of ethanol extract of P. longum fruits at 300 mg/kg body weight along with MSG significantly reduced the levels of lipid peroxides in serum, liver and kidney, serum AST activity, serum levels of triacylglycerol and total cholesterol. Though, there was an increase in the level of GSH in tissues it was not significant. However, the treatment failed to reduce the levels of ALT and urea. Examination of tissue sections also exhibited normal histological architecture of both the organs. The present study revealed that administration of P. longum provided significant protection to liver and kidney from the oxidative stress of MSG, though the dose rate was not sufficient to provide a complete protection.
Pipernonaline from Piper longum Linn. induces ROS-mediated apoptosis in human prostate cancer PC-3 cells.

Lee W1, Kim KY, Yu SN, Kim SH, Chun SS, Ji JH, Yu HS, Ahn SC.

Abstract

The antiproliferation effects of pipernonaline, a piperine derivative, were investigated on human prostate cancer PC-3 cells. It inhibited growth of androgen independent PC-3 and androgen dependent LNCaP prostate cells in a dose-dependent (30-90 μM) and time-dependent (24-48 h) manner. The growth inhibition of PC-3 cells was associated with sub-G(1) and G(0)/G(1) accumulation, confirmed by the down-regulation of CDK2, CDK4, cyclin D1 and cyclin E, which are correlated with G(1) phase of cell cycle. Pipernonaline up-regulated cleavage of procaspase-3/PARP, but did not change expression of proapoptotic bax and antiapoptotic bcl-2 proteins. Its caspase-3 activation was confirmed by the caspase-3 assay kit. In addition, pipernonaline caused the production of reactive oxygen species (ROS), increase of intracellular Ca(2+), and mitochondrial membrane depolarization, which these phenomena were reversed by N-acetylcysteine, a ROS scavenger. The results suggest that pipernonaline exhibits apoptotic properties through ROS production, which causes disruption of mitochondrial function and Ca(2+) homeostasis and leads to its downstream events including activation of caspase-3 and cleavage of PARP in PC-3 cells. This is the first report of pipernonaline toward the anticancer activity of prostate cancer cells, which provides a role for candidate agent as well as the molecular basis for human prostate cancer.
Immunomodulatory and antitumor activity of Piper longum Linn. and piperine

Abstract

Alcoholic extract of the fruits of the plant Piper longum and its component piperine was studied for their immunomodulatory and antitumor activity. Alcoholic extract of the fruits was 100% toxic at a concentration of 500 μg/ml to Dalton's lymphoma ascites (DLA) cells and 250 μg/ml to Ehrlich ascites carcinoma (EAC) cells. Piperine was found to be cytotoxic towards DLA and EAC cells at a concentration of 250 μg/ml. Alcoholic extract and piperine was also found to produce cytotoxicity towards L929 cells in culture at a concentration of 100 and 50 μg/ml, respectively. Administration of alcoholic extract of Piper longum(10 mg/dose/animal) as well as piperine (1.14 mg/dose/animal) could inhibit the solid tumor development in mice induced with DLA cells and increase the life span of mice bearing Ehrlich ascites carcinoma tumor to 37.3 and 58.8%, respectively. Administration of Piper longum extract and piperine increased the total WBC count to 142.8 and 138.9%, respectively, in Balb/c mice. The number of plaque forming cells also enhanced significantly by the administration of the extract (100.3%) and piperine (71.4%) on 5th day after immunization. Bone marrow cellularity and α-esterase positive cells were also increased by the administration of Piper longum extract and piperine.
Looking for more science on Piper Longum Linn, click here. 
Pu-erh Tea is a Chinese Cholesterol Remedy
POSTED ON FEB 16TH, 2015 IN (HERBAL CLEANSE TEA), INGREDIENTS & BLENDS
For over 2000 years, a special tea that originates from the Yunnan Province of China has been coveted for its preventative and curative properties. This tea is known as Pu-erh or Yunnan Tuocha. The tea`s cultivation can be traced as far back as the Han Dynasty (202 BCE-220 CE) and was made from the leaves of da ye or broad leaf tea. The leaves of this variety of old wild tea tree when picked, are taken and put through a process of delicate maturation that ends in the creation of what is called maocha.
Pu-erh Tea has been used in traditional Chinese medicine for generations to inhibit "internal dampness" (a term used in Chinese medicine to describe a build up of internal energy due to the spleen`s inability to transform energy that it receives from the stomach) and to invigorate the activity of the spleen and stomach. Other traditional uses include the removal of toxins from the body, curing dysentery, weight loss, improving eyesight, promoting blood circulation and reviving those who have over indulged in alcohol.
More recently, researchers have taken interest in Pu-erh tea for its ability to reduce cholesterol, lower blood pressure, protect connective tissue, and its ability to attack free radicals within the body. In multiple studies done in several countries, pu-erh tea has shown significant success in reducing blood cholesterol. One study done at the Wun-Shan Branch Tea Research and Extension Station in Taipei, Taiwan compared the effects of green, black, oolong, and cooked/black pu-erh teas on cholesterol in rats. The study showed the rats fed the cooked pu-erh tea leaves had an increase of HDL-C (good cholesterol) and a decrease in LDL-C (bad cholesterol) where the rats given the other teas had varying decreases in both types. This means that with pu-erh tea you get the best of both worlds, an increase in the cholesterol that you do want and a decrease of the cholesterol that you don`t.
At China`s Kunming Medical College, another study that consisted of 86 patients with unusually high levels of blood cholesterol examined the differences in the treatment of patients with Pu-erh tea verses conventional cholesterol medication. 55 of the patients were given a regimented dose of pu-erh tea three times a day; the other 31 were given a cholesterol lowering drug called PCIB in doses of 1/2 a gram 3 times a day. At the end of a two month period, the patients drinking the Pu-erh tea showed a 64.29% reduction in blood cholesterol levels in comparison to 66.67% for the group taking PCIB. Cholesterol is not the only benefit that pu-erh tea has to offer though. In 2006, a study found that it has anti-aging and anti-cancerous properties by attacking free radicals within the body as well as actively protecting human fibroblast cells (connective tissue) from damage and deterioration
References:
Comparative studies on the hypolipidemic and growth suppressive effects of oolong, black, pu-erh, and green tea leaves in rats. Kuo KL, Weng MS, Chiang CT, Tsai YJ, Lin-Shiau SY, Lin JK. Journal of agricultural and food chemistry, 2005 Jan 26;53(2):480
Chinese Natural Cures: Traditional Methods for Remedies and Preventions Henry C. Lu. Tess Press, 1994:14-1 Researches on Yunnan Tuocha Tea
Free radical scavenging effect of Pu-erh tea extracts and their protective effect on oxidative damage in human fibroblast cells. Jie G, Lin Z, Zhang L, Lv H, He P, Zhao B. Journal of agricultural and food chemistry, 2006 Oct 18;54(21):8058-64.
Source: http://www.naturalnews.com/026747_tea_Pu-erh_cholesterol.html#ixzz3Ruy2icyR
Honeybush: A South African Treasure
POSTED ON FEB 19TH, 2015 IN (HERBAL CLEANSE TEA), INGREDIENTS & BLENDS
One of its early recognized benefits of honeybush is its lack of caffeine, which makes it especially suited for night time consumption and for those who experience nervousness and want to avoid ordinary tea. As a result, it had a reputation as a calming beverage, though it may not have any specific sedative properties. It also has a low content of tannins, so it doesn't make a highly astringent tea, which can be a problem with some grades of black or green tea or when ordinary tea is steeped too long.
Honeybush also contains flavones, isoflavones, coumestans, luteolin, 4- hydroxycinnamic acid, polyphenols, and xanthones. These ingredients serve as antioxidants and may help lower blood lipids. The isoflavones and coumestans are classified as phytoestrogens, used in the treatment of menopausal symptoms, an application for which honeybush has recently been promoted.
Other key health benefits of honeybush tea includes:
Caffeine-free
Very low tannin levels
It is very soothing and calms the central nervous system
Eases constipation
Can be applied topically to skin irritations
Full of antioxidants to guard against free radical attack
Contains polyphenols that boost the immune system and to help reduce the degenerative effects of lifestyle diseases
Rich in minerals such as iron, potassium, calcium, copper, zinc, magnesium, manganese, and sodium
Honeybush tea processes numerous properties that enhance the health of people that use it:
Isoflavones & Coumestans The dietary phyto-estrogen-hormone-dependant process. This is advantageous for:
Regulation of menstruation cycles
Prevention of breast, prostate and Uterus cancer
Reduces the risk of Osteoporosis
Anti-fungal properties
Anti-virus properties
Anticholesterolemic-lowers cholesterol levels
Hypolipemic-lowers fat levels
Anti-microbial
Anti-oxidant
Xanthones
Anti-inflammatory
Anti-hepatotoxic (works against kidney poisoning)
Anti-virus
Anti-diarrhea
Anti-fungus o Anti-oxidants
Anti-depressant
Flavones
Vitamin-type activity (mixture of eriodictyol and hesperidien)
Anti-oxidants
Anti-microbial
Anti-virus
Anti-inflammatory
Spasmolytic
Diuretic (increases Urinating)
Non-feeding sweeteners
Research on Honeybush tea has only started recently in the 90's and already great progress was made on testing and researching the medicinal values of this tea.
Honeybush tea improves the immune system – honeybush tea is a natural source of many antioxidants, including major phenolic compounds. Phenolic compounds play a significant role in protecting the immune system from oxidative stress, which could damage cells, according to a 2013 review published in "Nutrients." Phenolic compounds also modulate the immune system, which helps the body's natural defenses against infections. This may be responsible for the belief that honeybush tea is effective in relieving colds, influenza and other diseases (Livestrong).
Honey bush tea protects from inflammatory diseases – evidence also exists that the phenolic compounds in honeybush tea are able to reduce inflammation and prevent the development of chronic inflammatory diseases. Phenolic compounds have a direct effect on down-regulating the body's inflammatory response, as demonstrated in inflamed intestinal cells similar to those seen in inflammatory bowel disease, according to a December 2010 study published in "Chemico-Biological Interactions." This makes honeybush tea effective in providing short-term inflammatory relief as well as helping to prevent or ameliorate inflammatory diseases like IBD or Crohn's disease (Livestrong)
Women's Health – honeybush tea is valuable to women's health, according to Montego Rooibos Herbal Tea, because it helps regulate periods and reduces the risk of osteoporosis and cancer of the breast and uterus (eHow).
Good for gastrointestinal health – people suffering from digestive problems can benefit from drinking honeybush tea that you can get from a Home Remedy Shop. It can be taken to alleviate heartburn, nausea and constipation. It can also help cure constipation. It treats abdominal cramps and colic pain in infants (Natural Home Remedies).