Change Your Cup, Change Your Life
Millions of people already have coffee in their life; however herbally infused coffee, tea & cocoa can make a life changing difference!
If you want youthful energy and the calorie-burning effect of an increased metabolic rate plus the added benefit of appetite suppression, you will love our "Burn and Control" gourmet weight loss coffee.
It is an answer to so many people's prayers who need more energy to succeed with reducing the unnecessary LBs and improving their health and physical comfort!
Our "Burn and Control" gourmet instant weight loss coffee is our main product! We have taken premium South American Arabica and Robusta coffee beans and added two herbs: Yerba Mate and Garcinia Cambogia. The result has to be experienced to be believed!
Monica Johnson, Director of Botanical Research explains how Burn+Control works:
Have you ever heard any one say, "Oh darn, I forgot to drink my cup of coffee (tea) this morning."
And that's the genius behind Burn+Control Coffee! No more having to remember to choke down pills or protein drinks.
Yerba Mate is a well-known herb in South America, and is as much a social drink as tea and coffee are in the U.S. It has both caffeine and theobromine in it plus many other compounds that have proven to be very beneficial and is used by millions as a safe stimulant that provides a noticeable, long term, energy boost. It is also reputed to be beneficial against colon cancer and other types of malignant growths.
Garcinia Cambogia is the fruit of a tree that grows in India and SouthEast Asia. It is an excellent appetite suppressant and is also reputed to help stop the formation of fat in the liver. Garcinia is also used as a spice in many countries.
Research indicates that the weight-loss mechanism is that it slows the conversion of carbohydrates to fats and tells our brain our stomach is full and to stop eating. Garcinia has also been used to help stop gastric and duodenal ulcers by reducing the amount of acid in the stomach.
Many people also report lower cholesterol levels when consuming this multi-benefit herb.
See our Success Stories below for our most current news of people getting results!
Garcinia Cambogia: Dual-Action Fat Buster
POSTED ON DEC 19TH, 2013 IN GARCINIA CAMBOGIA, SCIENCE
Derived from a small, pumpkin-shaped fruit native to Indonesia, Garcinia Cambogia is being heralded by medical experts and nutritional enthusiasts, not to mention Hollywood socialites, as the 'holy grail of weight loss.'
Here are the top 5 reasons this little fruit is making a big impression:
1. Acts as a fat blocker, turning sugars into energy instead of fat.*
2. Helps suppress appetite and control cravings.*
3. Decreases belly fat.*
4. Assists emotional eaters in balancing mood.*
5. Manages the stress hormone cortisol.*
Sources: Evidence Based Complementary Alternative Medicine & Physiological Behavior.
Turning the Spotlight on Yerba Mate
POSTED ON JAN 19TH, 2014 IN (BURN + CONTROL), COFFEE
Yerba mate is a stimulant with an ingredient known as mateine, which is similar to caffeine, without some of the known side effects. The mateine in yerba mate can help increase your metabolism and increase your energy, thereby burning fat in the process.
Yerba mate also has a relaxing effect that can calm your emotions and make you less prone to fall into overeating while stressed—a condition known as stress eating. This effect of yerba mate has also been known to stop cravings you may have for unhealthy foods. In addition, yerba mate has been found to slow down the rate of gastric emptying. This leads to dieters feeling fuller longer and less likely to overeat. It's easier to burn fat when you're not burning off all the excess food you're eating.
Yerba mate has also been known to delay the onset of lactic acid in your muscles—a condition that many exercisers know as "the burn." A delaying of "the burn" allows you to work out for longer than usual, thereby also increasing your ability to burn more fat.
Other Benefits of Yerba Mate
A study on small mammals suggests that yerba mate can lower cholesterol levels and blood sugar level.
Yerba mate can help the body to produce more bile and soften your stool, allowing your body's digestive system to operate more smoothly.
Even though yerba mate is a stimulant, it can help you sleep sounder. Sleep is a critical component of a healthy life.
Unlike other stimulants which can cause undue stress on your heart, yerba mate can actually be helpful to your heart by increasing supply of oxygen to the heart.
It can also relax your blood vessels, increasing circulation and lowering blood pressure.
Yerba mate is also believed to reduce inflammation of the lungs.
Take our 24 Day Feel Better Do Better Challenge!
There are 24 sticks per box which will give you 1 cup a day to determine how this is improving your life experience.  We all know people that feel better, do better … you just don't have to struggle anymore with the every day demands that maybe you or your loved ones are de-energized by.

Potential Health Benefits to Feel Better Now!
Order Your Burn+Control Coffee …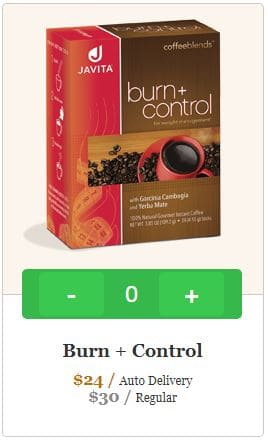 ---
Burn + Control White Paper
POSTED ON MAR 13TH, 2015 IN (BURN + CONTROL), WHITE PAPERS
Obesity and overweight are growing epidemics for much of the civilized world, leading to chronic diseases commonly associated with this health condition, such as cardiovascular issues, high blood pressure, diabetes, stroke, and potentially cancer. Preventing or reversing this debilitating condition has been the focus among complementary and alternative medicines, particularly within the nutraceutical and functional food industries. Many herbal products make claims toward weight loss and weight management, yet scientific research is scanty for these products at best. Researching and reviewing available scientific evidence prior to formulating novel products is ideal to insure the safety and efficacy of natural products.
When formulating Burn+Control Coffee, Javita International made extensive use of available research to confirm their own findings that Burn+Control Coffee is not only safe at the recommended dosages, but that it is highly effective for supporting the body in healthy weight management. It targets multiple functions in the weight management system of the body, including but not limited to increased energy, appetite suppression, and a reduction in fat cell formation. In addition to the functionality of this product for weight management, anecdotal evidence from consumers affirms that due to the taste and ease of use of the product, compliance is relatively easy, and thus the results may be enhanced over supplement-type weight loss products.
This white paper will focus on the scientific evidence used to support the formulation and use of Burn+Control Coffee as a weight management product. It will include descriptions and conclusions from various in vitro and in vivo trials showing efficacy and safety of the proprietary ingredients. This paper is meant to assist in the empowerment of the educated consumer, to determine the best weight management product for their needs.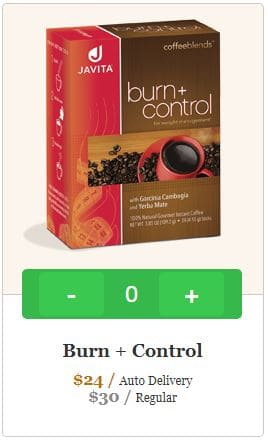 See for yourself the Weight Loss Successes so many are having along with unexpected Health Benefits of Burn + Control Coffee.
Starbucks has nothing on our coffee. Well unless you count being overpriced, full of questionable ingredients, not to mention you don't get paid when you share their coffee with someone else (more about this in an upcoming blog). However, we think the best reason of all for switching your cup to Burn+Control Coffee, is for the way it can change your life. Checkout this success from Shawnna L …
"My name is Shawnna and I am 35 years old. My girlfriend introduced me to Burn+Control Coffee. I was very hesitant at first, because I am not a coffee drinker.
I told her that I would try the tea but was not sure about the coffee. I went to her tasting and I was shocked!
I liked the tea but loved the coffee more. I wanted to try this product for several reasons. One being that it was for weight loss, but more importantly I wanted to try it for my health.
I have high blood pressure and high cholesterol. I have been on medicine for both for years now. I have been using this product for two months now.
I recently went to my doctor and received a great report. My weight was down 13 pounds and my blood pressure medicine was cut in half.
My cholesterol was one of the best readings I have had in a long time. I feel like I have won the lottery!"
Click here and learn all about it!
Got questions?  email me at support@makeadifference.com & let's do 'virtual' coffee!
CHECK OUT OUR 30 DAY COFFEE DIET SYSTEM